When sending and receiving cryptocurrency to yourself or others, a common complaint many have is verifying that you have entered the correct crypto address, as they are a long (24+ character), complex string of numbers and letters. While everyone uses copy and paste, you must still be meticulous in verifying that you have correctly pasted the wallet address.
It would be awesome if there was an easy and verifiable way to send and receive crypto to your wallet. Unstoppable Domains fills this gap by offering blockchain-based domain names with various benefits not available with traditional domain names.
Owners of an Unstoppable Domain can now take their long crypto wallet address (eg 0xZ1rS008l924vLKwU577t8fODMab1h6POKjUcp345) and instead register a simpler name like "yourname.crypto".
Once minted these multi-functional domains, based on blockchain technology, can simultaneously be used as a fully functional website and a payment gateway address, dramatically simplifying crypto transactions.
Users can now receive over 275 different cryptocurrencies to one human-readable name (e.g. yourname.crypto ).


As a CryptoAnswers referral, you can save $10 off your first purchase worth $40 or more (T&C apply).
Simply create a new account via our referral link, and the discount will be applied to your shopping cart.
Review of domain extensions at Unstoppable Domains
Our Unstoppable Domains review found that there are currently 12 domain extensions available for purchase, with 11 of them requiring a one-time fee (no recurring yearly fee). Included is the standout .x .crypto .nft .go and .wallet domains.
During 2023, Unstoppable domains also added support for Ethereum Name Service (ENS) domain endings, with the primary difference being ENS .eth domains require renewal and therefore uses must pay a yearly fee (similar .com domains that many would be used to).
Unstoppable Domains Extensions
wdt_ID
Extension (TLD)
Usage
Availability
Cost (USD)
1
.crypto
The ultimate Cryptocurrency related domain bar none! The uses for this domain are endless!
Whether it's for personal crypto transfers, business site, app, or more, this is the leading blockchain domain extension.
Available
$40 (and no renewal fees, ever!)
2
.bitcoin
The domain extension for Bitcoin users everywhere.
Available
$20 (and no renewal fees, ever!)
3
.blockchain
Perfect extension for blockchain evangelists, and any blockchain product or service.
Available
$10 (and no renewal fees, ever!)
4
.go
Good for an easy-to-remember domain extension.
(live approx Dec 2023)
in Pre-sale
$20 (and no renewal fees, ever!)
5
.888
A unique domain extension for those wishing themselves and others good fortune.
888 is referred to as an Angel Number and linked to success & prosperity.
In Asia, particularly Chinese culture, 888 means inviting triple the great wealth into your life.
Available
$20 (and no renewal fees, ever!)
6
.dao
A great domain for Decentralized autonomous organizations and those who believe in open governance and community.
The .dao domain also works great for the teachings of Daoism / Taoism (Daoist Philosophy).
Available
$20 (and no renewal fees, ever!)
7
.nft
Great for artists, collectors and fans.
With the uses for Non-fungible tokens (NFT) expanding by the day,
the .nft extension could be extremely popular as mainstream adoption comes closer and closer.
Available
$20 (and no renewal fees, ever!)
8
.wallet
A domain for the payment pioneers.
Uses for this extension will be varied as .wallet can apply to any business, or personal, destination to receive payment transfers.
Available
$20 (and no renewal fees, ever!)
9
.x
The ultimate domain ending and username. Short. Premium. Exclusive.
This domain extension can be used for almost anything (especially AI)!
Available
$40 (and no renewal fees, ever!)
10
.zil
Domain extension related to the Zilliqa Blockchain.
This Top-Level Domain (TLD) also runs on Zilliqa's public blockchain,
where as all other TLDs offered by Unstoppable Domains are on the main Ethereum blockchain.
Available
$10 (and no renewal fees, ever!)
11
.polygon
Domain extension related to the Polygon Blockchain.
Available
$2 (and no renewal fees, ever!)
13
.eth
Domain extension related to the Ethereum Blockchain.
Available
Varies & priced per year
Blockchain domain benefits
Domains built on blockchain technology (also referred to as Web3 domains or nft domains) are rapidly growing in popularity and have the potential to revolutionize the current internet.
A single easy to remember address for your crypto wallets (275+ cryptocurrencies supported);
Decentralized website URL (censorship resistant);
Universal username across websites and apps;
Your identity in Web 3.0;
No renewal fees, gas fees or hosting fees ever. Once you mint an Unstoppable Domain (excluding .eth), you will own it forever, or until you decide to transfer or sell it to someone else. The ENS .eth domain ending is the only one that does have a yearly fee;
Unstoppable Domains uses Polygon as their Layer 2 scaling solution. This allows you to mint and manage your domain for free on Polygon (fees still apply if you use Ethereum);
Collectible premium domains periodically released;
Ability to sell your domain/s on OpenSea (the world's first and largest Web3 marketplace for NFTs and crypto collectibles); and
more to come.
---
---
First-mover advantage to secure your crypto domain name
When a new technology emerges, there can often be opportunities for early adopters before the masses arrive. There is a window currently, similar to early adopters of .com domain names, to secure a premium blockchain-based domain (eg .crypto .wallet .bitcoin etc.) before others beat you to it.
Examples may include:
yourname.wallet – consider your children's name too, as this technology will be the "norm" for them (they'll thank you for securing their name early)
premiumname.crypto – consider names that may be of significant value as mass adoption continues
businessname.x – The ultimate domain ending and username. Short. Premium. Exclusive. This domain extension can be used for almost anything (especially AI, business or profile ID).
How do Unstoppable Domains work?
On their website they state that Unstoppable Domains are built on the Crypto Name Service (CNS). CNS is a set of smart contracts on the Ethereum blockchain that govern how domains are used and created. Although it serves similar purposes as the traditional Domain Name System (DNS), CNS has architectural differences which change the interaction model, such as CNS domains are owned irrevocably once minted.
Unstoppable Domains browser support
Your unstoppable domain is natively supported in the Opera and Brave browser. Chrome, Firefox and Edge browsers are supported by installing an extension in the browser. This is critical if you plan to use your domain to host a website via the Interplanetary File System (IPFS).
Over time, as this technology is more widely adopted by mainstream users, more and more web browsers will provide support for Web3 domains. However, in the meantime, consider yourself an early adopter and ensure the domains you use offer either native browser support or support via extensions as Unstoppable Domains does.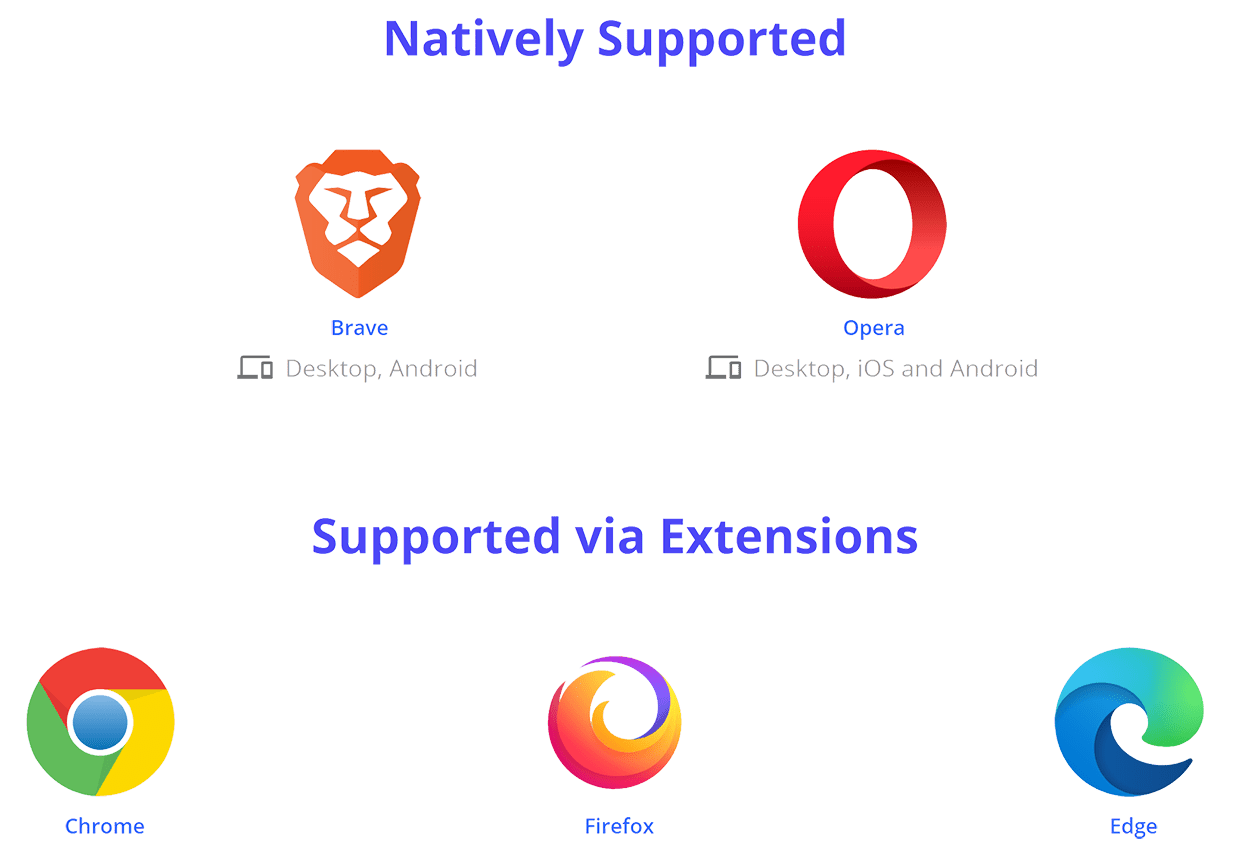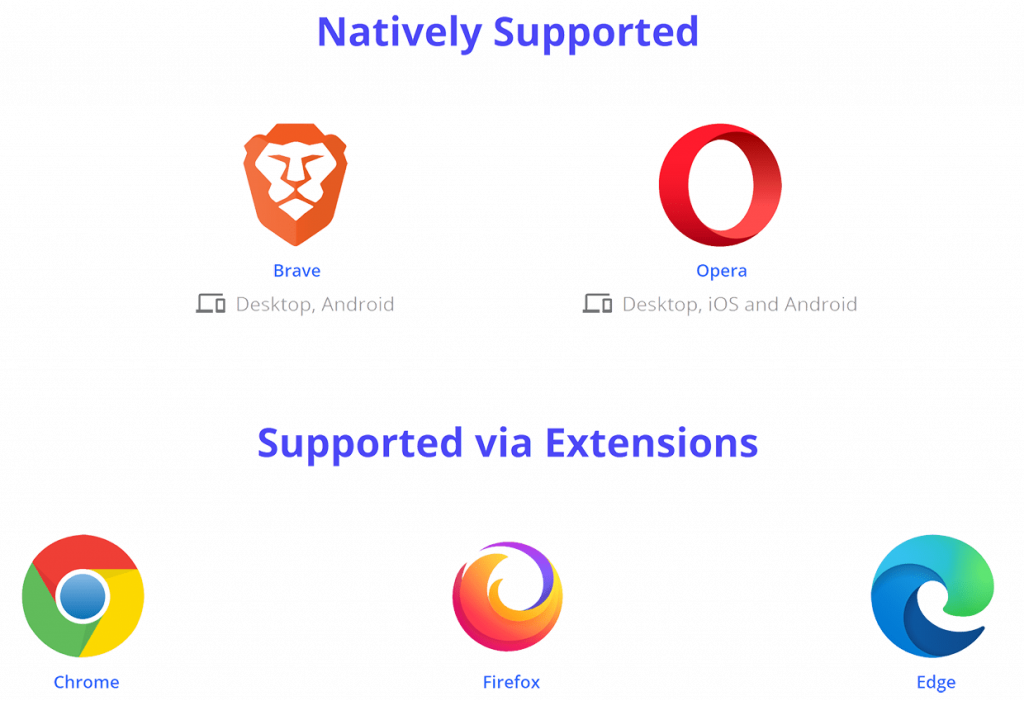 Secure your own unstoppable domain today before they're gone forever.