Bitcoin Halving Dates History
What is the Bitcoin (BTC) halving (halvening)?

The first point I'd like to clarify is that the term "Bitcoin halving" does not indicate a bitcoin halve in value, or that the price will be cut in half.
In crypto, halving (sometimes referred to as "halvening") refers to the number of tokens or coins that a miner receives for adding new transactions to the blockchain (i.e. reward for mining new blocks) being cut in half. While there are many cryptos that experience a halving, not all do. However, the most discussed halving in the media is that of the Bitcoin block reward halving.
In the case of Bitcoin (BTC), halvings occur once every 210,000 blocks. Currently, one block on the Bitcoin blockchain takes approximately 10 minutes to complete. Therefore a BTC halving will happen roughly every four years. These halvings are built into the Bitcoin code and will continue until the network has generated the maximum supply of 21 million Bitcoins.
The current Bitcoin block reward (after the third halving in 2020) is 6.25 Bitcoins per block.
Bitcoin halving dates – History & Future
Below is a table of historic and future Bitcoin halving dates, block number and block reward changes.
Halving (BTC)
Date
Block Number
Block Reward
BTC % Mined
Price on
Halving Day (USD)
Bitcoin launch
3rd Jan 2009
0 (Genesis Block)
50 BTC
50%
N/A
1st halving
28th Nov 2012
210,000
25 BTC
75%
$12.35
2nd halving
9th Jul 2016
420,000
12.5 BTC
87.5%
$650.53
3rd halving
11th May 2020
630,000
6.25 BTC
93.75%
$8,821.42
4th halving
between Feb to May 2024
840,000
3.125 BTC
96.875%
?
5th halving
approx. 2028
1,050,000
1.5625 BTC
98.4375%
?
6th halving
approx. 2032
1,260,000
0.78125 BTC
99.21875%
?
7th halving
approx. 2036
1,470,000
0.390625 BTC
99.609375%
?
8th halving
approx. 2040
1,680,000
0.1953125 BTC
99.8046875%
?
First eight halving dates for Bitcoin (BTC) – Please note this is not an exhaustive list.
As discussed above, Bitcoin halvings happen every 210,000 blocks until approximately the year 2140, when all 21 million bitcoins will have been mined. However, as you can see from the table above, over 98% will be mined and in circulation by 2028.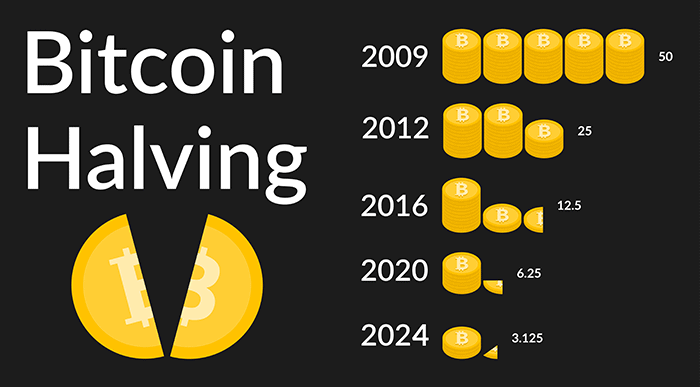 When is the next Bitcoin halving?
As at the time of writing, the next bitcoin halving date, the fourth, will happen on BTC block number 840,000 which is likely to occur in the first half of 2024 (between February to May).
BTC halving price prediction
Historically there has been a significant increase in the price of Bitcoin (BTC) between each halvening event (around a four year period give or take a little).
BTC price was US$12.35 on the day of the first halving in 2012
BTC price was US$650.53 on the day of the second halving in 2016
BTC price was US$8,821.42 on the day of the third halving in 2020 (Currently the last Bitcoin halving)
Where will Bitcoin's price be on the day of the fourth halving in 2024?
Please leave your BTC price predictions for the next halving in 2024. We will update this article after the next halving of Bitcoin with the winner who is closest 🙂
---
Disclaimer
The past performance of any financial product, including Bitcoin, is not indicative of future results. The material contained on this page is intended for informational purposes only. Our web site ("CryptoAnswers.com") and any comments published by visitors are neither an offer nor recommendation to buy or sell any cryptocurrency. We hold no investment licenses and are thus neither licensed nor qualified to provide investment advice. The content of our web site and/or visitor comments is not provided to any individual with a view toward their individual circumstances.
To the fullest extent of the law, we will not be liable to any person or entity for the accuracy, quality, reliability, completeness, or timeliness of the information provided on this web site, or for any direct, indirect, consequential, incidental, special or punitive damages that may arise out of the use of information we provide to any person or entity (including, but not limited to, lost profits, loss of opportunities, trading losses, and damages that may result from any inaccuracy or incompleteness of this information).
IF YOU DO NOT AGREE WITH THE TERMS OF THIS DISCLAIMER, PLEASE EXIT THIS SITE IMMEDIATELY. PLEASE BE ADVISED THAT YOUR CONTINUED USE OF THIS SITE OR THE INFORMATION PROVIDED HEREIN SHALL INDICATE YOUR CONSENT AND AGREEMENT TO THESE TERMS.