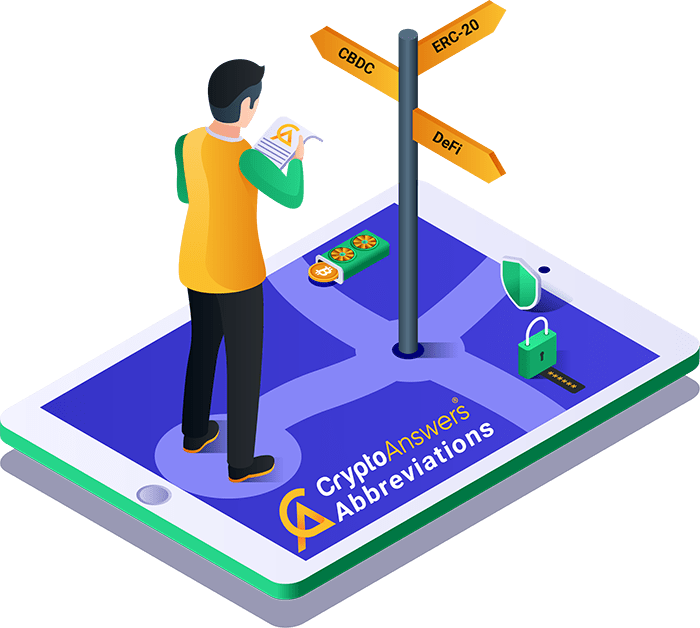 Blockchain and cryptocurrency terminologies are complex and can be confusing. Let alone when these crypto terms turn into an abbreviation (a truncated word), acronym (abbreviations which are pronounced as words), initialism (abbreviations that are pronounced one letter at a time), slang or general blockchain jargon! There is no denying this.
While we offer a dedicated Blockchain and Cryptocurrency Glossary, which explains many terms in detail, the list below will expand on blockchain and cryptocurrency acronyms and abbreviations.
Please note, CryptoAnswers has not included the ticker code for cryptocurrencies in this list, as they are all available on the Cryptocurrency prices and Market capitalization page.
| wdt_ID | Abbreviation / Acronym | Crypto Term / Phrase | Category |
| --- | --- | --- | --- |
| 1 | ATH | All-Time High | Financial |
| 2 | ATL | All-Time Low | Financial |
| 3 | ALT or Altcoin | Alternative Cryptocurrency (cryptocurrency other than Bitcoin) | Financial |
| 4 | CEX | Centralized Exchange | Financial |
| 5 | CMC | Coinmarketcap | Financial |
| 6 | DeFi | Decentralized Finance | Financial |
| 7 | DLT | Distributed Ledger Technology | Financial |
| 8 | ERC-20 | Token standard for Ethereum | Standards |
| 9 | ERC-721 | Token standard for NFT (non-fungible tokens) | Standards |
| 10 | ETF | Exchange-Traded Fund | Financial |
| 11 | ETP | Exchange-Traded Product | Financial |
| 12 | FIAT | Conventional government-issued currency (e.g. US Dollar or Euro) | Financial |
| 13 | IBO | Initial Bounty Offering | Financial |
| 14 | ITO | Initial Token Offering | Financial |
| 15 | mBTC | Millibitcoin (0.001 BTC) | Financial |
| 16 | MCAP | Market Capitalization | Financial |
| 17 | PnD | Pump-and-Dump scheme | Financial |
| 18 | SATS | Satoshis (the smallest denomination of a Bitcoin: 0.00000001 BTC) | Financial |
| 19 | Tx | Transaction | Financial |
| 20 | TxID | Transaction Identification | Financial |
| 21 | uBTC | MicroBitcoin (0.000001 BTC) | Financial |
| 22 | UXTO | Unspent Transaction | Financial |
| 23 | BUIDL | "Build" (purposeful misspelling for ironic meaning) | Conversational |
| 24 | FOMO | Fear of Missing Out | Conversational |
| 25 | HODL | Hold On for Dear Life (purposeful misspelling of "HOLD") | Conversational |
| 26 | BTD or BTFD | Buy The Dip or Buy the F*****g Dip | Conversational |
| 27 | DYOR | Do Your Own Research | Conversational |
| 28 | FUD | Fear, Uncertainty and Doubt | Conversational |
| 29 | FUDster | A person who spreads Fear, Uncertainty and Doubt | Conversational |
| 30 | ELI5 | Explain It Like I'm 5 | Conversational |
| 31 | JOMO | Joy of Missing Out | Conversational |
| 32 | KYC | Know Your Customer | Regulation |
| 33 | Lambo | Lamborghini (cryptocurrency term for getting rich) | Conversational |
| 34 | TLT | Think Long Term | Conversational |
| 35 | AMA | Ask Me Anything | Conversational |
| 36 | REKT | "Wrecked" (meaning major losses) | Conversational |
| 37 | TOR | The Onion Router (one who sends anonymous data) | Conversational |
| 38 | CT | Crypto Twitter | Conversational |
| 39 | BTM | Automatic Teller Machine for Bitcoin | Blockchain |
| 40 | EIP-1559 | Ethereum Improvement Proposal 1559 (huge upgrade and change to Ethereum's monetary policy in 2021) | Ethereum |
| 41 | PoB | Proof of Burn | Blockchain |
| 42 | PoD | Proof of Developer | Blockchain |
| 43 | SC | Smart Contract | Blockchain |
| 44 | UTC | Coordinated Universal Time | Miscellaneous |
| 45 | WP | Whitepaper | Blockchain |
| 46 | YTD | Year to Date | Miscellaneous |
| 47 | ASIC | Application-Specific Integrated Circuit | Hardware |
| 48 | CPU | Central Processing Unit | Hardware |
| 49 | FPGA | Field-programmable gate array | Hardware |
| 50 | GPU | Graphics Processing Unit | Hardware |
| 51 | HDD | Hard disk drive | Hardware |
| 52 | HSM | Hardware Security Module | Hardware |
| 53 | SSD | Solid-state drive | Hardware |
| 54 | ADAM | Association for Digital Asset Markets | Regulation |
| 55 | ADCA | Australian Digital Commerce Association | Regulation |
| 56 | ADI | Authorised Deposit-taking Institution | Regulation |
| 57 | APRA | Australian Prudential Regulation Authority | Regulation |
| 58 | ASIC | Australian Securities and Investments Commission | Regulation |
| 59 | ATO | Australian Taxation Office | Regulation |
| 60 | ATS | Alternative Trading System | Regulation |
| 61 | BCBS | Basel Committee on Banking Supervision | Regulation |
| 62 | CBDC | Central Bank Digital Currency | Regulation |
| 63 | CFTC | Commodity Futures Trading Commission | Regulation |
| 64 | DOJ | Department of Justice | Regulation |
| 65 | ESMA | European Securities and Markets Authority | Regulation |
| 66 | FATF | Financial Action Task Force | Regulation |
| 67 | FDIC | Federal Deposit Insurance Corporation | Regulation |
| 68 | FinCEN | Financial Crimes Enforcement Network | Regulation |
| 69 | FINRA | Financial Industry Regulatory Authority | Regulation |
| 70 | FSA | Financial Services Agency | Regulation |
| 71 | FSB | Financial Stability Board | Regulation |
| 72 | FSOC | Financial Stability Oversight Council | Regulation |
| 73 | ICMA | International Capital Market Association | Regulation |
| 74 | IRS | Internal Revenue Service | Regulation |
| 75 | KFTC | Korea Fair Trade Commission | Regulation |
| 76 | OFAC | Office of Foreign Assets Control | Regulation |
| 77 | PSD2 | Payment Services Directive | Regulation |
| 78 | SEC | Securities and Exchange Commission | Regulation |
| 79 | TARP | Troubled Asset Relief Program | Regulation |
| 80 | VASP | Virtual Asset Service Provider | Regulation |
| 81 | 2FA | Two-factor authentication (Multi-factor authentication) | Security |
| 82 | BLS | Boneh–Lynn–Shacham | Security |
| 83 | CA | Certificate authority | Security |
| 84 | DDoS | Distributed denial-of-service | Security |
| 85 | DoS | Denial of service | Security |
| 86 | E2EE | End-to-end encryption | Security |
| 87 | ECC | Elliptic-Curve Cryptography | Security |
| 88 | ECDSA | Elliptic Curve Digital Signature Algorithm | Security |
| 89 | MPC | Multi-party computation | Security |
| 90 | PGP | Pretty Good Privacy | Security |
| 91 | RSA | Rivest–Shamir–Adleman | Security |
| 92 | sMPC | Secure multi-party computation | Security |
| 93 | SSL | Secure Sockets Layer | Security |
| 94 | TEE | Trusted Execution Environment | Security |
| 95 | TLS | Transport Layer Security | Security |
| 96 | VPN | Virtual Private Network | Security |
| 97 | VRF | Verifiable random function | Security |
| 98 | API | Application Programming Interface | Software |
| 99 | CSV | Comma-Separated Values | Software |
| 100 | FOSS | Free and Open Source Software | Software |
| 101 | PWA | Progressive web application | Software |
| 102 | SaaS | Software as a Service | Software |
| 103 | REST | Representational State Transfer | Software |
| 104 | UI | User Interface | Software |
| 105 | UX | User Experience | Software |
| 106 | ADL | Auto-deleveraging | Trading |
| 107 | AON | All or None Order | Trading |
| 108 | APPT | Average profit per trade | Trading |
| 109 | ATR | Average true range | Trading |
| 110 | BB | Bollinger Band | Trading |
| 111 | DCA | Dollar-Cost Averaging | Trading |
| 112 | EMA | Exponential Moving Average | Trading |
| 113 | FA | Fundamental Analysis | Trading |
| 114 | FOK | Fill or Kill | Trading |
| 115 | ITM | In the money | Trading |
| 116 | MACD | Moving Average Convergence Divergence | Trading |
| 117 | MVRV | Market Value to Realised Value | Trading |
| 118 | NVT | Network Value to Transactions | Trading |
| 119 | OCO | One-Cancels-Other | Trading |
| 120 | OHLC | Open high low close | Trading |
| 121 | OTC | Over-the-Counter | Trading |
| 122 | OTM | Out of the money | Trading |
| 123 | ROI | Return on Investment | Trading |
| 124 | RSI | Relative Strength Index | Trading |
| 125 | SMA | Simple Moving Average | Trading |
| 126 | TA | Technical Analysis | Trading |
| 127 | VIX | Volatility index | Trading |
| 128 | VWAP | Volume-weighted average price | Trading |
| 129 | DAICO | Decentralised Autonomous Initial Coin Offering | Fundraising |
| 130 | DDG | Due diligence questionnaire | Fundraising |
| 131 | ICO | Initial Coin Offering | Fundraising |
| 132 | IDO | Initial DEX Offering | Fundraising |
| 133 | IEO | Initial Exchange Offering | Fundraising |
| 134 | IFO | Initial Future Offering | Fundraising |
| 135 | IICO | Interactive Initial Coin Offering | Fundraising |
| 136 | MTO | Micro Token Offering | Fundraising |
| 137 | MTO | Milestone Token Offering | Fundraising |
| 138 | PIPE | Private investment in public equity | Fundraising |
| 139 | RICO | Reverse initial coin offering | Fundraising |
| 140 | SAFT | Simple Agreement for Future Tokens | Fundraising |
| 141 | SPAC | Special purpose acquisition company | Fundraising |
| 142 | STO | Security Token Offering | Fundraising |
| 143 | TBC | Token Bonding Curve | Fundraising |
| 144 | VC | Venture capital | Fundraising |
| 145 | ACH | Automated Clearing House | Financial |
| 146 | APR | Annual Percentage Rate | Financial |
| 147 | BECS | Bulk Electronic Clearing System | Financial |
| 148 | CAGR | Compound annual growth rate | Financial |
| 149 | CAPM | Capital asset pricing model | Financial |
| 150 | CDO | Collateralised debt obligation | Financial |
| 151 | CFD | Contract for difference | Financial |
| 152 | CLO | Collateralised loan obligation | Financial |
| 153 | EM | Emerging market | Financial |
| 154 | FX | Foreign exchange | Financial |
| 155 | HFT | High-frequency trading | Financial |
| 156 | HQLA | High-quality liquid assets | Financial |
| 157 | IRA | Individual Retirement Account | Financial |
| 158 | GMRA | Global Master Repurchase Agreement | Financial |
| 159 | LCR | Liquidity coverage ratio | Financial |
| 160 | LIC | Listed investment company | Financial |
| 161 | LP | Liquidity provider | Financial |
| 162 | MBS | Mortgage-backed securities | Financial |
| 163 | MoE | Medium of Exchange | Financial |
| 164 | mREIT | Mortgage real estate investment trust | Financial |
| 165 | NAV | Net asset value | Financial |
| 166 | NPP | New Payments Platform | Financial |
| 167 | REIT | Real estate investment trust | Financial |
| 168 | RITS | Reserve Bank Information & Transfer System | Financial |
| 169 | SMSF | Self-Managed Superannuation Fund | Financial |
| 170 | SoV | Store of Value | Financial |
| 171 | TGA | Treasury General Account | Financial |
| 172 | UoA | Unit of Account | Financial |
| 173 | EEA | Enterprise Ethereum Alliance | Ethereum |
| 174 | EF | Ethereum Foundation | Ethereum |
| 175 | EIP | Ethereum Improvement Proposal | Ethereum |
| 176 | ENS | Ethereum Name Service | Ethereum |
| 177 | EOA | Externally owned account | Ethereum |
| 178 | ERC | Ethereum Request for Comments | Ethereum |
| 179 | ETH | Ether | Ethereum |
| 180 | EVM | Ethereum Virtual Machine | Ethereum |
| 181 | TVL | Total value locked | Ethereum |
| 182 | WETH | Wrapped Ether | Ethereum |
| 183 | GHOST | Greediest Heaviest Observed Subtree | Consensus |
| 184 | GRANDPA | GHOST-based Recursive ANcestor Deriving Prefix Agreement | Consensus |
| 185 | LFT2 | Loop Fault Tolerance 2.0 | Consensus |
| 186 | PoA | Proof of Authority | Consensus |
| 187 | PoS | Proof of Stake | Consensus |
| 188 | PoW | Proof of Work | Consensus |
| 189 | BIP | Bitcoin Improvement Proposal | Bitcoin |
| 190 | BTC | Bitcoin | Bitcoin |
| 191 | DLC | Discreet log contract | Bitcoin |
| 192 | LN | Lightning Network | Bitcoin |
| 193 | LND | Lightning Network Daemon | Bitcoin |
| 194 | MAST | Merkelised Abstract Syntax Tree | Bitcoin |
| 195 | P2EP | Pay to EndPoint | Bitcoin |
| 196 | P2SH | Pay To Script Hash | Bitcoin |
| 197 | P2WPKH | Pay To Witness Public Key Hash | Bitcoin |
| 198 | P2WSH | Pay To Witness Script Hash | Bitcoin |
| 199 | P2TR | Pay to Taproot | Bitcoin |
| 200 | SegWit | Segregated Witness | Bitcoin |
| 201 | SHA | Secure Hash Algorithm | Bitcoin |
| 202 | UASF | User-Activated Soft Fork | Bitcoin |
| 203 | AMM | Automated market maker | Architecture |
| 204 | CFMM | Constant function market maker | Architecture |
| 205 | DAG | Directed Acyclic Graph | Architecture |
| 206 | DAO | Decentralised Autonomous Organisation | Architecture |
| 207 | DApp | Decentralised Application | Architecture |
| 208 | DEX | Decentralised Exchange | Architecture |
| 209 | HTLC | Hashed Timelock Contract | Architecture |
| 210 | IPFS | InterPlanetary File System | Architecture |
| 211 | L1 | Layer One | Architecture |
| 212 | L2 | Layer Two | Architecture |
| 213 | LBP | Liquidity bootstrapping pool | Architecture |
| 214 | NFT | Non-Fungible Token | Architecture |
| 215 | P2P | Peer-to-Peer | Architecture |
| 216 | PKI | Public Key Infrastructure | Architecture |
| 217 | SMR | State Machine Replication | Architecture |
| 218 | TCR | Token Curated Registry | Architecture |
| 219 | TPS | Transactions Per Second | Architecture |
| 220 | UTXO | Unspent Transaction Output | Architecture |
| 221 | vAMM | Virtual automated market maker | Architecture |
| 222 | ZKP | Zero-Knowledge Proof | Architecture |
| 223 | zkSNARK | Zero-Knowledge Succinct Non-Interactive Argument of Knowledge | Architecture |
| 224 | EIPIP | EIP Improvement Proposal | Ethereum |
| 225 | WASM | Web Assembly | Ethereum |
| 226 | VDF | Verifiable Delay Function | Ethereum |
| 227 | DPoS | Delegated Proof of Stake | Consensus |
| 228 | LPoS | Liquid Proof of Stake | Consensus |
| 229 | NPoS | Nominated Proof of Stake | Consensus |
| 230 | BFT | Byzantine Fault Tolerance | Consensus |
| 231 | dBFT | Delegated Byzantine Fault Tolerance | Consensus |
| 232 | pBFT | Practical Byzantine Fault Tolerance | Consensus |
| 233 | iBFT | Istanbul Byzantine Fault Tolerance | Consensus |
| 234 | Market Cap | Market Capitalization | Financial |
| 235 | HPS | Hashes per Second | Blockchain |
| 236 | BP | Block Producer | Miscellaneous |
| 237 | ZK | Zero Knowledge | Miscellaneous |
| 238 | HF | Hard Fork | Miscellaneous |
| 239 | SF | Soft Fork | Miscellaneous |
| 240 | NONCE | Number Only Once | Miscellaneous |
| 241 | HW | Hardware Wallet | Miscellaneous |
| 242 | MCD | Multi-collateral Dai | Miscellaneous |
| 243 | CDP | Collateralized Debt Position | Miscellaneous |
| 244 | SNARKs | Succinct Non-Interactive ARguments of Knowledge | Security |
| 245 | STARKs | Scalable Transparent ARguments of Knowledge | Security |
| 246 | BEP-2 | Binance Chain Tokenization Standard | Standards |
| 247 | BEP-20 | Binance Chain Tokenization Standard | Standards |
| 248 | TZIP | Tezos Interoperability Proposal | Standards |
| 249 | NEP | NEO Enhancement Proposal | Standards |
| 250 | MBT | Micro Bitcoin Futures (CME Group) | Trading |
| 251 | CME | Chicago Mercantile Exchange (CME Group) | Trading |
| 252 | AML | Anti-Money Laundering | Financial |
| 253 | P2E | Play-to-Earn | Miscellaneous |
| | | | Category |